Bashar Al-Assad and his Russian allies have begun their assault on Idlib, Syria's last rebel stronghold. The days ahead are going to be bloody; likely the final chapter in a war that's raged for 7 years.
Tahrir Al-Sham, an Al Qaeda affiliated coalition, is the dominant force in Idlib. Then known as the Al-Nusra Front, the jihadist group seized the province from government forces in March 2015.  They imposed Sharia law and, in response to Assad's growing power, united Idlib's jihadists under a common banner. Tahrir Al-Sham has 3,000 fighters and controls 60% of the province, including the city of Idlib itself. Since 2016 they have been the Assad regime's toughest and best-organised opponent.
The Turkish backed 'National Front for Liberation' control the rest of the province. Both Jihadist and 'moderate' factions number in their ranks.
Assad has been winning since 2016. While his myriad opponents, which once included pro-democracy forces, ISIS and other jihadists, bicker amongst themselves, Assad reasserts his rule province by province.
Assad's strategy is simple. First, his regime sets its sight on a defiant city or neighbourhood and besieges it, cutting inhabitants off from outside aid. Then Russian jets bomb it to oblivion. When the enemy's back is broken and its citizenry is starving, regime forces and Iranian militias march in and crush any remaining opposition. One by one the rebel strongholds of Aleppo (2016), Eastern Ghouta and Daraa (2018) fell this way. The strategy is effective, but leaves of thousands of dead citizens every time.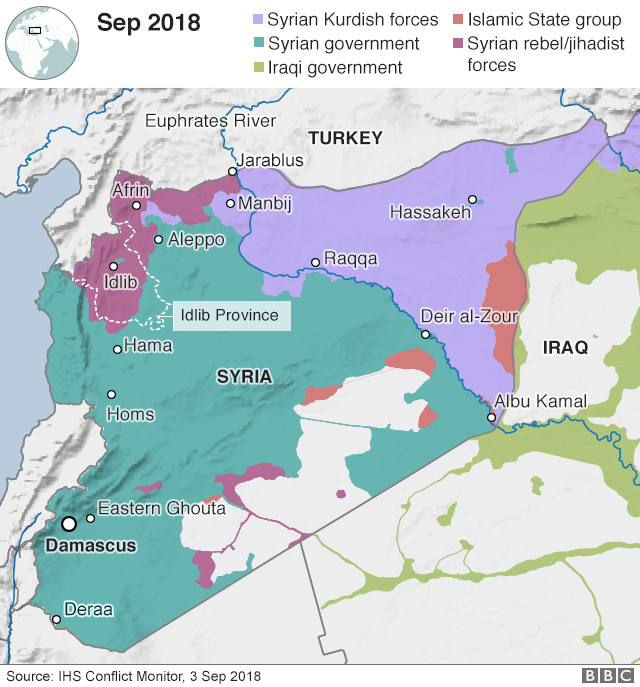 Idlib is home to 3 million people. A third is children and more than half are refugees from elsewhere in Syria.
Turkey has closed its borders. Syria's northern neighbour already houses 3.5 million refugees and the fears the destabilization a further influx would bring. When the battle for Idlib starts its people will have nowhere to run.  Given the regime and its allies' tendency for war crimes, a humanitarian catastrophe of potentially unprecedented scale now looms.
On Monday President Trump warned Assad "hundreds of thousands of people could be killed" if he attacks Idlib. He's right, but a tweet won't deter Bashar Al-Assad or Vladimir Putin. Turkey and the UN issued similar statements to little avail. Assad, Putin and Turkish president Tayyip Erdogan will meet in Iran on Friday to discuss the issue.
If Idlib falls, as it likely will, the Syrian Civil War will be over.  While the northwest belongs to the Kurdish 'Republic of Rojava', they have maintained an uneasy truce with Damascus throughout the war, and will hopefully reach a peaceful settlement.
For now, Russian planes are already taking the first casualties.
Sources: Al Jazeera, BBC, Foreign Policy, Gulf News, IRIN News, New York Times 
See Also: