Nagorno Karabakh, or Artsakh, is a disputed territory in the southern Caucasus. While officially part of Azerbaijan, it has self-governed since 1994. Its ethnic Armenian population contest Azerbaijani rule. In October 2020 Azerbaijan mobilized to retake the region. Neighbouring Armenia supports Nagorno-Karabakh while Turkey supports Azerbaijan. The Second Nagorno-Karabakh War is the first international conflict of the 2020s.
Nestled in the Caucasus Mountains, between Russia and the Middle East, Nagorno-Karabakh is a green and mountainous land home to over 4,000 ancient monasteries and forts. Its name roughly means 'Upper Karabakh. While Christian Armenians have the oldest presence in the region, Arabs, Persians, Turks, Azeris and Russians have also ruled. Both Azerbaijan and Armenia claim it as their own.
Timeline:
< 180: Indigenous states
180 – 387: Great Armenia
387 – 600s: Sassanian Empire (Persian)
600s – 821: Arab Caliphates
821 – 1261: Kingdom of Artsakh (Armenian)
1261 – 1500s: Principality of Khachen (Armenian)
1500s – 1806: Five Melikdoms (Armenian governors ruling under Persian and Turkic overlords)
1806 – 1918: Russian Empire
1918 – 1991: Soviet Union
1991 – 1994: Disputed between Azerbaijan and Armenia
1994: Republic of Artsakh (de facto)
The Soviets ended fighting between Armenians and Azeris in Nagorno-Karabakh when they took over in the 1920s. To divide-and-rule, they made Nagorno-Karabakh a part of the Azerbaijan Soviet Socialist Republic. By 1991 Nagorno-Karabakh was 25% Azeri and 75% Armenian.
In 1988, Nagorno-Karabakh voted to join Armenia, then still a part of the Soviet Union. Both Azerbaijan and the Soviet Union rejected the move and when the latter collapsed in 1991 both Azerbaijan and separatists took arms. Armenia backed the rebels and a bloody war ensued. Both sides committed atrocities and over 40,000 died. In 1994 they called a ceasefire. Azerbaijani forces withdrew from Nagorno-Karabakh, leaving it under rebel control but officially Azerbaijani. Low-level conflict continued for the next 25 years.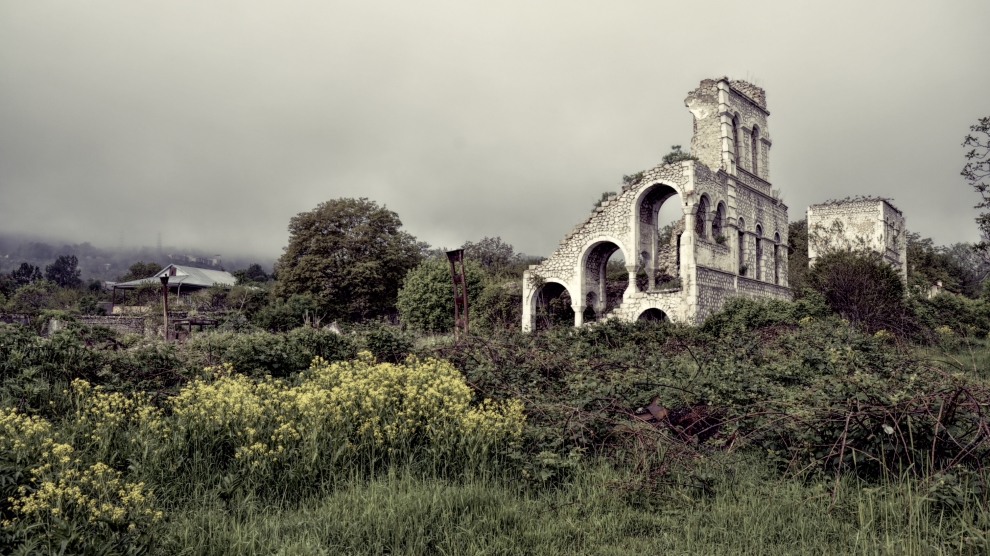 On September 27th 2020 Azerbaijani dictator Ilham Aliyev launched a surprise rocket attack on Nagorno-Karabakh. Armenia retaliated and immediately called the draft. President Erdogan of Turkey promised to aid Azerbaijan by whatever means necessary. For the past nine days, Armenia and Nagorno Karabakh exchanged rocket fire with Azerbaijan. Civilians have been the main victims and both sides have used cluster bombs, which international law prohibits.
Armenia is not without allies of its own. As a member of the Collective Security Treaty Organisation (CSTO), Russia is its greatest ally. Said nation has pushed for a peace settlement but has allegedly deployed mercenaries to Armenia's aide. Russia does not recognize Nagorno-Karabakh however and therefore will likely only intervene if Armenia itself is attacked.
Turkey is already engaged in proxy conflicts with Russia in Syria and Libya and is pushing territorial claims against Greece and Cyprus. They have deployed Syrian Jihadi mercenaries to Nagorno-Karabakh. Turkey shares an old rivalry with Russia and a bitter relationship with Armenia ever since the genocide of 1916. Kurdish militias in Iraq and Syria have also rallied to Armenia's side. Israel supplies weapons to Azerbaijan, including high-tech 'kamikaze drones'.

Iran is pulled by both sides. On one hand, Iran has 2 million Azeri citizens and Azerbaijan is a fellow Shia Muslim country while Armenia is Christian. On the other hand, Iran and Armenia have long been close while ally Russia backs Armenia and rivals Turkey and Israel back Azerbaijan. At worst, this conflict could spin out of control and put regional powers Turkey and Russia into direct confrontation.
No countries officially recognize Nagorno-Karabakh's statehood except the fellow Caucasian disputed territories of Abkhazia, South Transnistria and North Ossetia. It shares close ties to Armenia and animosity with Azerbaijan.
Karabakh Armenians plead their right to self-determination. Azerbaijanis, meanwhile view Artsakh as an illegitimate rebel state who unlawfully displaced its Azeri inhabitants in the 1990s. As the international community sees Nagorno-Karabakh as an Azerbaijani province, they have every right to take it back. While this may be a repeat of the first Nagorno-Karabakh conflict, both sides now have stronger militaries and regional politics are far more fraught.

Sources: Ahval News, BBC, Lonely Planet, Mountainous Karabakh, The Nation, Radio Free Europe/Radio Liberty

See Also: