Inuit are the indigenous people of the North American Arctic. They live in Greenland and the polar regions of Alaska and Canada. Their ancestors migrated from Asia around 1000, making them the last indigenous people to settle the Americas.
Inuit means 'the people' in Inuktitut. A singular Inuit is an Inuk.
The word 'Eskimo' refers to the related peoples of the Arctic Circle who speak Eskimo-Aleut languages, including Inuit, the Aleuts of Alaska and the Yupik of Kamchatka. Eskimo means 'snow shoes' in Algonquin but scholars once thought it came from the Cree 'askipiw', meaning 'eater of raw flesh'. That etymology is now disproven, though Eskimo is still considered derogatory in Canada. Inuit is preferred.
The ancestors of the Inuit crossed the Bering Strait from Siberia a thousand years ago. Known as the 'Thule Culture', their ancestors displaced the Dorset people who came before them and spread across the American Arctic. The Thule had greater numbers and husky-driven sledges which the Dorset lacked. The last Dorset group perished in 1903. Owing to their later migration, Inuit are more closely related to the indigenous Siberians than other Amerindian and First Nations groups.
Inuit have adapted to the most extreme conditions of any human society. In the Arctic, temperatures can reach -50° and there are periods of 24-hour darkness in winter. There is no wood or domesticable animals. Agriculture is impossible. The traditional Inuit diet was 75% fat and in winter, 100% meat and fish.
Inuit drove sledges, wore fur coats and built skin tents in summer and igloos in winter. They fished, and hunted seals, walrus, caribou and whales, and made harpoons from narwhal horns and walrus ivory. Their adaption to polar environments meant Inuit settlers thrived in Greenland while Norse colonies perished. Kayaks are an Inuit invention. 
European whalers made contact with Inuit in the 1700s. By the 19th century, the measles, smallpox, tuberculosis and alcohol they introduced had killed 90% of the Inuit population.
By the early 20th century, Inuit were hunting with guns and using metal tools. Many made a living selling fox pelts to white traders. Some attended missionary schools but were largely independent of mainstream Canadian society.
The Canadian government asserted control over the Inuit from 1939. Government assimilation policies forced Inuit children into residential boarding schools and assigned them state-sanctioned names. Abuse was rampant. They resettled nomadic Inuit into permanent settlements to lay claim to parts of the Arctic, ended their traditional way of life and forced them into the modern economy. The decimation of whale populations, melting ice caps and oil drilling has since made the traditional Inuit lifestyle untenable.
In the 1970s, university-educated Inuit lobbied for land claims and self-representation. The territory of Nunavut, which is majority Inuit, became self-governing in 1993.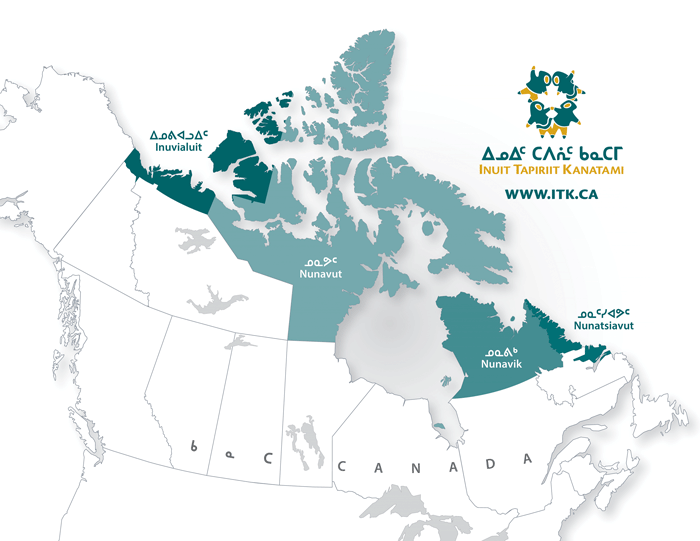 Today, Canadian Inuit live in four autonomous regions, each located north of the treeline.
Inuvialuit (Northwest Territories)
Nunavut (own territory)
Nunavik (Quebec)
Nunatsiavut (Newfoundland and Labrador)
Greenland, though under Danish sovereignty, is 80% Inuit. As in Canada, the Danish government resettled Inuit into towns and forced changes in diet and occupation. Resettlement, overfishing and climate change destroyed their traditional way of life in a mere generation. Greenland gained home rule in 1979.
Modern Inuit are impoverished minorities in their respective countries. Many live in isolated communities with little access to roads and hospitals. Canadian Inuit live 15 -20 years less than the average citizen. In both Greenland and Canada, suicide is six times the national average.
It is not all, however, so bleak. Inuit culture is seeing a revival across Alaska, Greenland and Canada. Traditional visual art and throat singing is taught across the Inuit homeland, and in Nunavut, most children now learn Inuktitut as a first language.

Sources: Indigenous Peoples Atlas of Canada, Inuit Tapariit Kanatami, Minority Rights Group

See Also: