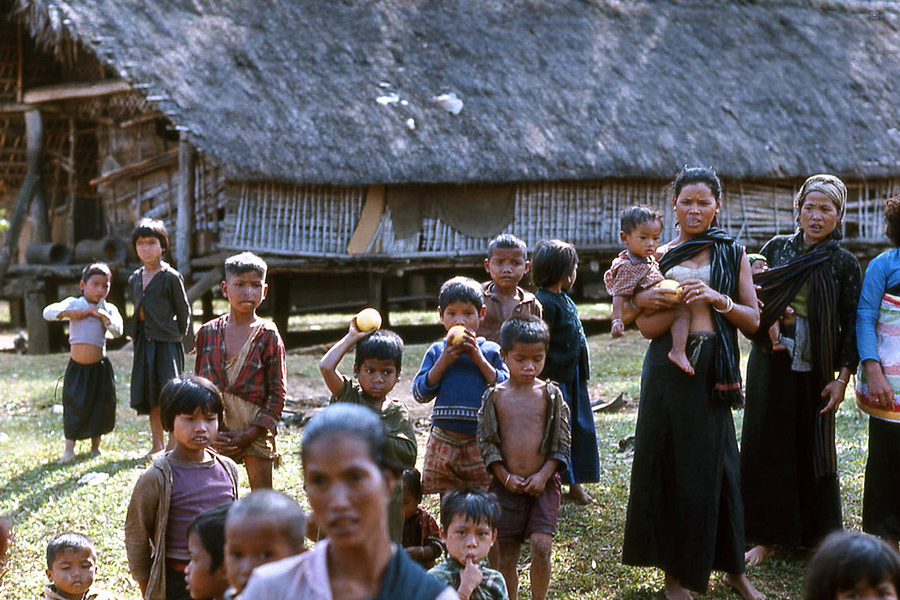 The Ruc are a small tribe indigenous to the mountains of Quang Ngai province, Vietnam. Until 1959, they lived in complete isolation from the outside world as they had for thousands of years. The Ruc were hunter-gatherers who lived in caves and grottos and shunned contact with mainstream Vietnamese society. Upon their discovery, the North Vietnamese government forced their integration. Today they no longer live as hunter-gatherers and are recognised as one of Vietnam's 53 ethnic minorities.
Phong Nha-Kẻ Bàng National Park, a UNESCO world heritage site, is a land of dense mountain jungle that houses the world's largest caves and oldest limestone deposit. The Ruc have lived there since the Stone Age and their name means 'cave people' in a local dialect.
To the ethnic Vietnamese that farmed the lowlands, these mountains were a wilderness home to dangerous beasts and mysterious tribes. Though their ancestors likely settled northern Vietnam at the same time, while the lowlanders adopted agriculture and formed kingdoms, the Ruc and their cousins maintained a hunter-gatherer lifestyle free from outside influence.
In 1959, a group of North Vietnamese soldiers were investigating the aftermath of a bombing in the mountains of Quang Ngai when they spotted a band of 'forest people'. The strangers were short, naked and incredibly agile. They fled up trees and into caves and grottos. The soldiers followed them and spent all day persuading eleven families to relocate to a nearby village.
Rather than leave them be, the authorities forced integration. According to communist doctrine, history is progressive and the Ruc would be better off by settling down and adapting to modern, agricultural society than remaining in their primitive and oblivious state. By 1971 the Ruc had all abandoned their caves and were living in permanent homes.
The Ruc moved into state-provided houses, and their numbers grew from 109 in 1971 to 500 today. Many longed for their old ways, however, and to this day some still live in caves up to three months a year. In 2013 Ho Tien Nam became the first Ruc to graduate from university. He now works as a teacher.
Anthropologists place the Ruc language in the Chut group, which encompasses five other indigenous tongues and is part of the Austroasiatic family. Their ancestors may have retreated to the mountains when farmers settled northern Vietnam. Their language is small and, because they had no tribal or family names, after 1971 they took Vietnamese ones.
Traditionally the Ruc foraged for food, mainly the edible powder of the Doac tree, fished and hunted small animals. They slept standing up. Ruc believed in magic and cast spells to protect from pregnancy, stave off wild beasts or in, in some cases, cause harm. These spells and rituals are upheld by elders with secrecy and reverence. In 2005, scientists identified the small animal Ruc hunted as the Laotian Rock Rat, an animal they thought died out 11 million years ago.

Sources: English-Vietnam, Species Conservation, Spiritual Travellers Blog, UNESCO
See Also: