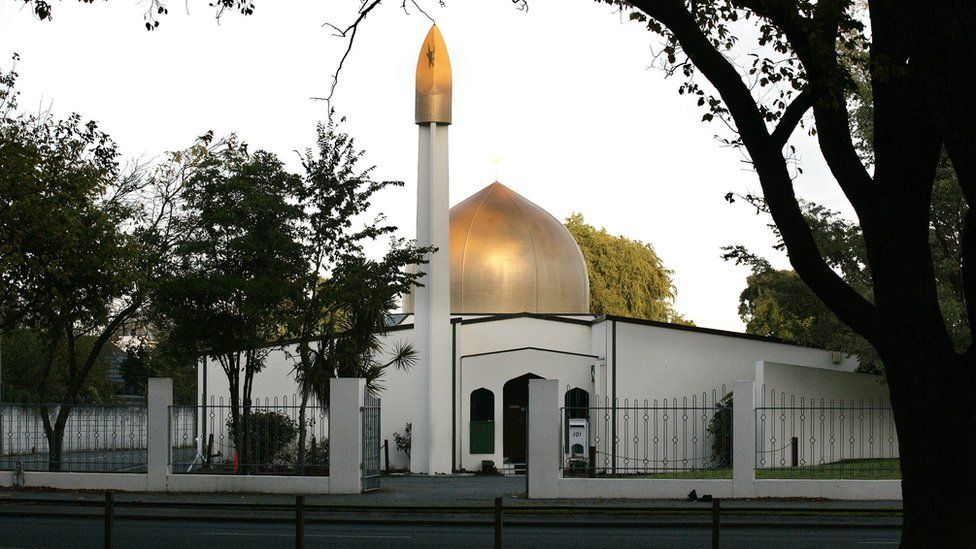 On Friday 15th March a gunman opened fire on worshipers in the al-Noor Mosque and Linwood Islamic Center in Christchurch, New Zealand during midday prayers.  49 were killed, including children, and 20 seriously injured. Shooter Brenton Tarrant livestreamed the massacre on Facebook using a go-pro and posted the link to 8chan before the attack. His 74 page manifesto detailed his desire to kill Muslims in western countries and restore white supremacy.
Azam Ali, a victim, told Radio New Zealand:
"We were into 10 minutes of our prayers and then we heard gun shots outside, but kept on praying. Next minute, it was inside. He was a light-coloured skin guy and he started firing and we all went for cover….. A couple of guys from inside probably ran outside and they all came out in blood. When we got up we saw people lying around us [who] were shot. They had blood coming out, some from the neck."
There were 300 people in the al-Noor Mosque. Trapped in the mosque and at the mercy of the shooter, many worshipers smashed through glass doors and windows to escape. During the massacre the shooter swapped weapons and changed his magazine seven times. Teacher Naeem Rachid heroically charged at the gunman but was killed alongside his son Talha.
After al-Noor Tarrant drove to the Linwood Islamic Centre five kilometres away. He killed seven people before a worshiper disarmed him. Tarrant escaped the scene but police apprehended him and put the city on lockdown. Over 40 people were admitted to hospital.
Christchurch is the third biggest city in New Zealand and home to 404,000 people. 0.8% of the city's population are Muslim, out of 1.2% nationwide. The shooter chose Christchurch because the city would be defenseless and unprepared; he wanted to prove 'nowhere in the world was safe'.
Brenton Tarrant is a 28 year old Australian former cryptocurrency investor and personal trainer. According to his manifesto he was a 'just a regular White man from a regular family' and a former 'communist and anarchist'. He became radicalised while travelling Europe in 2017 and was active on alt-right and white supremacist internet forums.
Tarrant's manifesto expressed concern with high Muslim fertility rates, Islamic terrorism and the white genocide conspiracy theory. Identifying as an 'Eco fascist', he employed a bizarre mix of environmentalist, anti-capitalist, white nationalist, anti-Islam and anti-immigrant rhetoric.
His inspirations included Norwegian mass murderer Anders Breivik, British fascist Oswald Mosely, Serb war criminal Radovan Karadzic, American conservative Candance Owens (probably ironically – he claimed her views were more extreme than his own) and the People's Republic of China. Tarrant claimed to admire Donald Trump 'as a symbol for white identity and common purpose' but not 'for his policies and as a leader'. He did not express allegiance to any specific organisation but said he supported many.
Tarrant's goals were to make Muslims feel unsafe in the West and spark a civil war in the United States over the Second Amendment. He repeatedly referred to Muslims as 'invaders' and planned the massacre two years in advance.
Until yesterday New Zealand was a safe country relatively untouched by the terrorism and divisive politics which afflict the western world. Since 1945 the country's worst mass shooting had been the 1990 Aramoana Shooting that killed 14 people. New Zealand has never before experienced a hate crime or act of terrorism of this level. Prime Minister Jacinda Ardern called the Christchurch shooting 'New Zealand's darkest day'.  49 died, the same number who fell in the 2016 Orlando nightclub shooting, the modern USA's second worst.
New Zealand gun laws are stricter than the United States. Firearms are legal for the purpose of hunting and users must pass interviews and background checks to gain their license. As a small island nation with few people, gun laws are comparatively easy to enforce. Once purchased, however, few firearms are registered. Tarrant used a shotgun and a semiautomatic AR-15, held a license and was a member of a local shooting club. The shooter was not known to police or intelligence agencies beforehand. Ardern has since promised to ban semiautomatic weapons.
Aside from Raeem and Talha Rachid, victims' names are yet to be confirmed.
Sources: BBC, the Guardian, New Zealand Herald, Radio New Zealand, Reuters, Stuff, Sydney Morning Herald, Tarrant's Manifesto 
See more:
Update 17/03/19: 50 confirmed dead, victims' names released