The White Helmets are the largest humanitarian organisation in Syria. Founded in 2014, their 3,000 members risk death to aid and rescue civilians in the 'most dangerous places on earth'.
According to the White Helmet website:
'Our mission is to save the greatest number of lives in the shortest possible time and to minimise further injury to people and damage to property.'
When the vicious realities of the Syrian civil war caught the world's attention in 2012, international aid agencies and NGOs offered to help Syrian civil defence volunteers. The Turkish charity AKUT and the British Mayday Rescue Foundation provided training in first aid, rescue and trauma care to Syrians across the border.  In 2014, these volunteer groups formed Syria Civil Defence or the 'White Helmets'. Though externally funded, their ranks comprise of Syrians.
Syrian rebel territory, particularly dense urban zones like Aleppo, is subject to mortar fire, aerial bombardment, barrel bombs and chemical nerve agents.  Unarmed White Helmets rescue civilians from the rubble, tend to the wounded and maintain water and electrical services. They claim to have saved over 114, 131 lives since the war began.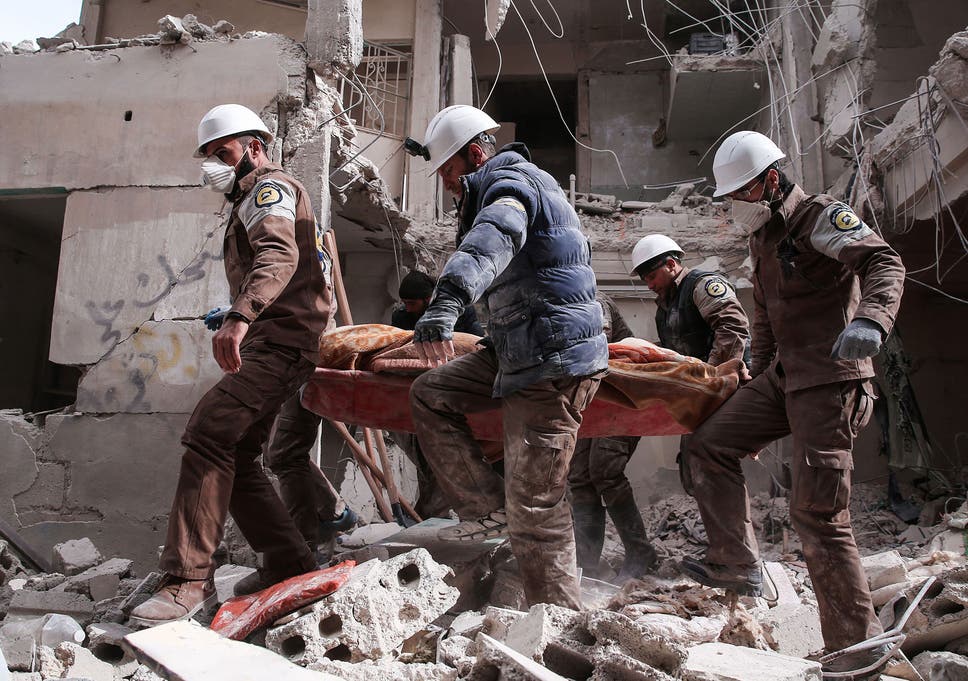 Syria's regime and their Russian allies consider the White Helmets enemies. Saving lives and rebuilding infrastructure in hostile territory is not in their interest, as doing so prolongs surrender. Assad claims the White Helmets are both members of Al Qaeda and agents of US imperialism.  Sputnik, a Russian news agency, describes the White Helmets as 'busy cooking up lies instead of protecting the human rights of the Syrian people", stressing that liberal bogeyman George Soros is a major donor. Kremlin propaganda also pushes a conspiracy theory claiming the White Helmets are American spies who conducted the 2018 sarin gas attack as a false flag operation.
The White Helmets are not without Western detractors either. Blogger Vanessa Bailey, known for her coverage of Israel and Syria, anti-Israel academic Max Blumenthal, and Roger Waters of Pink Floyd are among the best known, as well as the usual cohort of American alt-right figures who buy into Russian propaganda. They claim the White Helmets:
are anti-Assad
operate mainly in Jihadist territory
are funded by foreign governments
want foreign governments to intervene against Assad
All true. However, if volunteers are saving lives does it really matter what banner flies over them? The White Helmets are merely unarmed medical workers. Even so, if you witnessed the ravages of Russian bombardment firsthand, you would probably be anti-Assad too. Maybe you'd even favour intervention. During the height of the siege of Aleppo in 2016, the White Helmets and three other charities accused Russia of war crimes.
Only in rebel territory are innocents bombed day and night by Russian warplanes. Only in rebel territory are the White Helmets allowed to operate. Before her murder at the hands of a far-right terrorist, British Labour MP Joe Cox nominated the White Helmets for a Nobel Prize. If you ask me they are heroes.
In April 2018, President Trump halted US aid to the White Helmets.  In July, when regime forces took the regions of Deraa and Quintera, over 800 White Helmets and their families were stranded on the Israeli border. Israel evacuated 422 of them through the Golan Heights to Jordan. Now Syria's remaining White Helmets are stranded in Idlib province, the last territory still fighting Assad.
Sources: BBC, The Conversation, The Guardian, Russia Today, New York Times, The Nation, Sputnik, Syria Civil Defense
See Also: