Wikipedia does not have a list of civil wars by death toll so I made my own. I filtered the article 'List of wars by death toll' to include only civil wars, rebellions and internal conflicts then ranked them by the number of victims.
Casualties of war are always estimates, so I used the geometric mean wherever possible and rounded it to the nearest one hundred thousand.
A civil war is a conflict between factions in the same country. I counted rebellions against foreign governments, like the Dungan Revolt, Bangladesh Liberation War and Indian Rebellion as civil wars because Han Chinese, East Pakistanis and Indians fought on both sides respectively.
Taiping Rebellion (1850-1864) – 45,000,000 casualties
The Taiping Heavenly Army, led by a man claiming to be Jesus Christ's brother, rebels against China's Qing Dynasty. Qing victory.
An Lu Shan Rebellion (755-73) – 21,700,000
An Lu Shan, a powerful general of Central Asian heritage, establishes a rival empire against China's Tang Dynasty. Tang victory.
Dungan Revolt (1862-1877) – 9,800,000
Chinese Muslims rebel against the ruling Qing Dynasty. Qing victory.
Chinese Civil War (1927-1949) – 9,700,000
Warlords, Nationalists and Communists fight for control of China. Communist victory.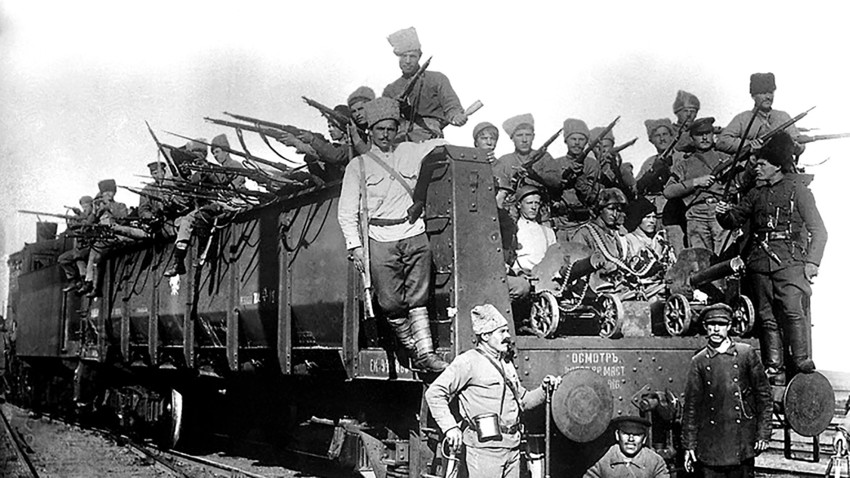 Russian Civil War (1917-1922) – 6,700,000
The Red (Communist) and White (anti-Communist) armies fight for control of Russia. Communist victory.
Yellow Turban Rebellion (184-205) – 4,600,000
Taoist secret societies lead a peasant revolt against China's Han Dynasty. Han victory.
Second Congo War (1998-2003) – 3,700,000
A greater African proxy conflict. Angola, Chad, Namibia and Zimbabwe support the Congolese government against Ugandan, Rwandan and Burundian backed rebels. Stalemate.
Bangladesh Liberation War (1971) – 3,000,000
East Pakistan (Bangladesh), secedes from Pakistan with Indian support. East Pakistani victory.
French Wars of Religion (1562-1598) – 2,900,000
French Protestants rebel against the Catholic monarchy. Catholic victory.
Indian Rebellion of 1857 (1857-1858) – 2,900,000
India rebels against British colonial rule. British victory.
Not only did half these wars happen in China, but the entire first four! It is not surprising, given China is, and always has been, the most populated country in the world. The Taiping Rebellion cost more lives than the next three conflicts combined. According to Wikipedia more were killed in this conflict than the Second World War! (35 million).
Most are wars the average Westerner have never heard of. The most famous ones, like the American, Spanish and Syrian civil wars, number under one million casualties.
Only two – the Second Congo War and Bangladesh Liberation War- involved significant interference from outside powers.
Note (31/07/18) – If you would like a post on any of the conflicts listed, please suggest it in the comments below!
See Also: